Kam eben bei mir an.
## Seeking graphic designers for Doughnut Economics…
by Kate Raworth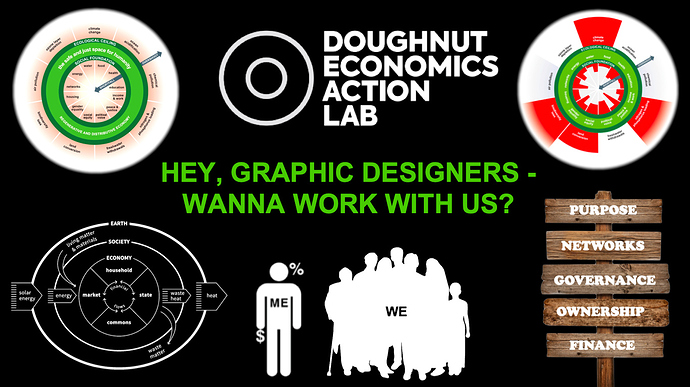 At Doughnut Economics Action Lab (DEAL), our small team will be continually making presentations, publishing reports, creating videos, running workshops, and turning new concepts into icons and diagrams. We know the power of pictures - they are at the heart of our work - so we are aiming to do all this in a visually brilliant way.
And that's why we are seeking to build long-term working relationships with 2-4 fabulous freelance graphic designers, based anywhere in the world, whose skills will collectively cover the following:
designing and laying out DEAL's online reports and publications
creating visual images (graphic and photographic) for our website
designing icons and diagrams based on our concepts
designing slides for presentations and videos
visually scribing during online workshops
creating videos from supplied footage
We are looking to work with designers who are:
aligned with DEAL's values and purpose, and excited about being part of this work
open to working closely with us, co-creating designs in an agile and iterative way
ready to design in a style that reflects our logo and brand guidelines
occasionally available at short notice and for quick turnaround on small design jobs
If this sounds like you (or someone fabulous you know), and if you would like to collaborate with DEAL in turning Doughnut Economics from a radical idea into transformative action, do get in touch with us soon, and before 15 June 2020, via this simple form (please don't email us as well - this form is by far the best way for us all!)
Doughnut Economics Action Lab is a mission-driven organisation set up in 2019 as a UK Community Interest Company. We work with others to create regenerative and distributive economies that meet the needs of all people within the means of the living planet. If you'd like to know more about us - our purpose, our plans, and our ways of working - you can read more in DEAL's Strategic Plan 2020-22.
We look forward to hearing from you, and seeing what you do. Bring on the designers!